Buy now
and get 30% off Constant Contact.
If you're already using Constant Contact, please let others know of this special offer. Thanks!
Sign up to take advantage of this
30% off for 3 months* offer.
Use this Offer Code at checkout: SPJUN30
If you need help, I can get you set up or even manage your account for you. Just give me a call at 928.301.7292.
.
– Offer ends June 30, 2015 –
(11:59 pm ET)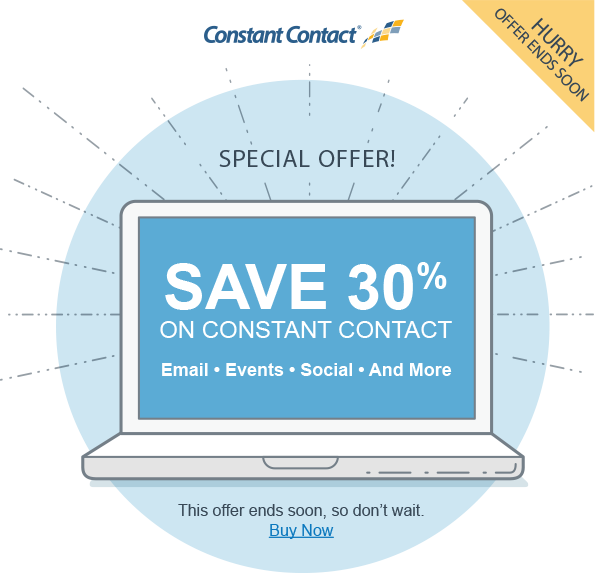 *This promotion (the "Promotion") begins on June 8, 2015 at 12:01 a.m., Eastern Time ("ET") and ends on June 30, 2015 at 11:59 p.m., ET (the "Promotion Period"). If eligible Constant Contact customers purchase (i) the Email or Email Plus level of Constant Contact, during the Promotion Period, they will receive a discount of 30% off of such purchased product(s) for the first three months after they become a paying customer. Constant Contact customers will be eligible to participate in this Promotion if they (i) are a Constant Contact trial account holder or a new Constant Contact customer who has never been a paying Constant Contact customer, and (ii) become a paying Constant Contact customer and either enter the applicable promo code during check out by 11:59 p.m., ET, on Tuesday, June 30, 2015 or call a Constant Contact sales representative and mention this offer by 5:00 p.m., ET, on Tuesday, June 30, 2015. After the first three months have ended, eligible participants will automatically be charged the current retail price for the product(s) unless they cancel their accounts or the applicable product. This Promotion cannot be combined with any other Constant Contact promotion or special offer. Constant Contact offers a 30-day money-back guarantee on purchases of certain Constant Contact products, as more fully described at
www.constantcontact.com/pricing
. Constant Contact reserves the right, in its sole discretion, to suspend or cancel this Promotion at any time. This Promotion and all Constant Contact products and services are subject to the Constant Contact
terms and conditions
.